Women of TIDAL are Shaping the Innovative Future of the Platform
Women of TIDAL are shape shifters.
Every now and then, the age-old debate on whether to have dinner with Jay-Z or take $500,000 trends on social media. Fans provide arguments for both sides of the spectrum. Some argue that a conversation during a dinner with Hov will catapult them to insurmountable heights, while others look to cash-out on-demand.
Well last September, TIDAL's Twitter account finally put the debate to rest with the now viral response "Take the $500K," tweeted from the thumbs of social media manager, Melanie Mercedes.
The New York University alumna has held the role of managing all social platforms for TIDAL. Now her role has evolved to community manager of social which she describes is a role that goes far beyond solely publishing on social media.
"The magic in social is being able to identify your audience and speak to them directly. When they feel seen and heard, they're much more likely to engage in a meaningful way."
Humanizing the brand is pivotal to keeping the audience engaged. While social media controls the direct-to-consumer voice for the platform, Alexa Disney connects the DSP and collaborating artists with external brands that coincide with their musical content and overall message.
The Sony Music alumas, where she held a similar role, stresses the importance of authenticity when pairing TIDAL or other artists with other brands.
"Fans know if it's not authentic," she says.
There was more push back during the beginning of her career, where many artists perceived brand partnerships to be a gimmick, rather than something that can help expand their audience. In this day and age, artists are more receptive because it helps to only add to their overall brand.
For Tonya Nelson-Fisher, the manager of music programming, she connects TIDAL's "most passionate music fans" to their favorite genre, artists, era of music and more. In addition, Nelson-Fisher helps to curate themed playlists for specific holidays, months and even cultural icons. Back in January, TIDAL uploaded a playlist of Martin Luther King Jr.'s most famous speeches. The same goes for Maya Angelou and Malcom X.
"I think that differentiates us and helps us to stand out from the pack," she says.
Nelson-Fisher promises that TIDAL will introduce new features to enhance their user experience in the near future. The digital streaming platform has added the HiFi Plus tier user experience, which grants access to lossless High Fidelity sound quality, master quality and immersive audio.
Although Tonya, Alexa and Melanie's roles differ, they co-exist to expand TIDAL's reach to potential new audiences, while maintaining the interest of the ones that already exist.
Their musical obsession only adds to the growth and success of the platform.
Continue the Women of TIDAL conversation on social media.
Chlöe Previews 3 New Songs, Asks Fans To Pick Her Next Single – Halla Back Free Promotion
This has been a successful solo season for Chlöe Bailey, but we still have yet to receive her official debut. Fans aren't too worried about its arrival now that the "Have Mercy" hitmaker is teasing her next single. We recently received "Treat Me," another racy track from the Chloe x Halle star, and just ahead of its arrival, Chlöe confirmed that her album was completed.
"I don't control dates or anything, but just know i'm super proud of this project. it means absolutely everything to me," she tweeted back in March. "I'm so happy right now. I haven't been that active and i miss you guys every single day, but just wanted to check in so you know i'm working and making everything special for y'all."
Amy Sussman / Staff / Getty Images
This evening (May 17), Chlöe returned with teasers of several songs that are in the running to become her next single. "Which song should I drop next? [eyeball emojis]," she wrote in the caption to her Livestream. The choices were "For The Night," "Suprise," and "Cheat Back"—all R&B bangers that her fans were begging to hear full versions of.
As fans gave their votes as to which song reigned victoriously, they also jumped in with their feature choices. Chlöe has yet to even share the record's title let alone her collaborations, but we're sure we will hear much more in the weeks to come. 
Check out Chlöe's songs below and let us know which one you're vibing with.
DIAMOND IN THE ROUGH: Meaner – "Loneliness"
In this new entry in our 'Diamonds In The Rough' category, we want to introduce you to upcoming artist Meaner and his brand new single titled "Loneliness".
Meaner is back with his brand new single "Loneliness". This track speaks about the hopelessness and fear that comes with feeling lonely, an issue that the artist has struggled with as a young teenager and had to face further when the lockdown struck, "Know you have to find you role In this world one day mean peeps You don't need to be guilty Just because you don't succeed". Meaner was inspired by his friend's opinions on loneliness as well as his own experiences. With this song, Meaner reaches out to remind people of their inherent worth and that there's always someone out there to listen.
Meaner combines a chill beat with some smart and deep lyrics. We love the vibes on the tune; this one will definitely go into our playlists.
Listen below:
Chris Brown Eyes Las Vegas Residency
Chirs Brown is on his way to Law Vegas in a planned residency. So prepare yourself for a spectacular ride at Drai's Nightclub.
Chris Brown's Las Vegas Residency Planned At Drai's Nightclub
Chris Brown is headed to Las Vegas!
Drai's in LV announces that the 33-year-old dynamic singer and dancer has a multi-year residency deal.
But this isn't the first time the Grammy award-winning artist is performing at the venue.
As he performed there back in 2015 as one of their inaugural talents.
However, his return to Drai's stage comes with high expectations.
Even though he gave a spectacular show 7 years ago, this time will be different.
And he is the first to have a custom-designed set, including a transparent two-level stage.
Bringing him closer to his fans, the design is immersive, up-close, and personal.
According to their website, the new creation will be unlike anything seen before on their stage.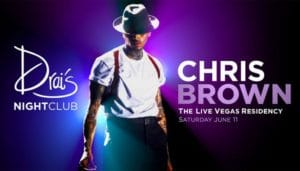 Drai's Entertainment President Sings Chris Brown's Praises
Here is what Drai's Vice President of Entertainment, Dustin Dari has to say about the artist –
"Chris Brown helped define Drai's LIVE and what has become an unmatched lineup of residency performers on the Las Vegas Strip. He's one of the most dynamic live performers today and we're thrilled to welcome him back with a production that's set to deliver an unprecedented fan experience."
As for the legendary R&B artist, he has 15 years of tunes in his catalog to share.
Chris Brown currently holds the record as the longest-running #1 song on the Billboard R&B/Hip-Hop Airplay chart at 28 weeks with Go Crazy.
This feat surpasses his own track, No Guidance with the honor.
In addition to those highly successful tracks, he most definitely is introducing songs from his highly anticipated upcoming new album.
His ninth studio album, Breezy. is set to be released this summer.
You can purchase tickets for this grand event right on Drai's website.
So prepare yourself to see Chris Brown at Drai's Nightclub in Las Vegas starting June 17th.
To hold you over, check out his official music video with Young Thug in Go Crazy right now –
Want more stories on Chris Brown, check them out now.
Hip Hop News Uncensored. It's the Leader in Hip Hop content on YouTube!