Nas & Miss Info To Host 'The Bridge: 50 Years of Hip Hop' Podcast on Spotify
[ad_1]

Nas and veteran journalist & host Miss Info will host a podcast called The Bridge: 50 Years of Hip Hop exclusively on Spotify, it has been announced today.
The Grammy-winning rapper and Minya "Miss Info" Oh's podcast is being described as a talk show that will "feature lively conversations with a plethora of guests ranging from iconic rappers, producers, to today's popular artists to explore the ways in which hip hop influenced society."
The first season launches on Tuesday, November 16th with new episodes releasing weekly, exclusively on Spotify. Ice Cube, Mary J. Blige, and Cordae are some of the guests who will appear during first season with more set to be announced later.
According to the press release, the guests on the podcast "will represent all facets of the genre from past to present including musicians, political leaders, athletes, writers, and actors. They will recount stories on their connection to Hip Hop, their musical careers, and will offer relevant insight on various topics including the art of MCing, regional identities (West Coast versus East Coast rap culture), the digital era, sub-genres of Hip Hop, global expansion and much more."
Nas and Miss Info have had a longstanding relationship as she wrote the 5-mic review for Nas' Illmatic album in The Source magazine back in 1994 as an intern. Miss Info says, "there's nothing more fulfilling and, honestly, more fun than being able to ride shotgun with Nas on this journey. Of course, "The Bridge" brings our paths full circle as friends and colleagues, but the most special thing about this podcast are the conversations that listeners will get to sit in on. Our guests open up to Nas and I, about the way they approach life, the way they reconcile their pasts, and in many cases, the shared history between Nas and these fellow artists. We're having a blast and I think it shows."
Mass Appeal announced its #HipHop50 content partnership with Showtime/ViacomCBS earlier this year. The Bridge: 50 Years of Hip Hop is part of one of many digital activations that will be rolled out over the course of the next two years in the multi-tiered campaign.
[ad_2]

Source link
NEW MUSIC: Lil Uzi Vert – "Space Cadet"
[ad_1]

Lil Uzi Vert has decided to kick off the weekend with the release of a brand new single titled "Space Cadet".
The rapper is currently working his forthcoming EP Red & White, which is expected to be released soon.
Listen below:
[ad_2]

Source link
Lizzo's Album Is Heating Up
[ad_1]

Lizzo's Album Is Heating Up. The R&B singer really knows how to make a statement. And, her new music reflects her political views.
Does Lizzo Have Another Hit Album?
Lizzo's Album Is Heating Up. One of my favorite songs is "About Damn Time." Although, people think Lizzo pushes the envelope. Especially, with her risque outfits. I think her voice is phenomenal.
She continues to reinvent her musical style. This album is just heating up. Another song that speaks to me is "Special." According to Rolling Stone, Lizzo has challenged herself to go deeper.
When she sings some of her songs it takes you back. In other words, she puts an eighties power bop to steamy disco mixed with R&B. Furthermore, some of her songs remind you of Philly's group The Delfonics."
Not to mention, the sounds of guitars, strings, and of course the flute compliment her lyrics. It may have been hard for Lizzo to top her first album. However, I think she pulled it off.
Here is a list of songs on "Special."
1. 'The Sign'
2. 'About Damn Time'
3. 'Grrrls'
4. '2 Be Loved'
5. 'I Love You Bitch'
6. 'Special'
7. 'Break Up Twice'
8. 'Everybody's Gay'
9. 'Naked'
10. 'Birthday Girl'
11. 'If You Love Me'
12. 'Coldplay'
More importantly, Lizzo makes some political innuendos. She lets society know, that she is not ashamed. The way she celebrates her voluptuous body. Also, she does not apologize for expressing herself.
Her music challenges the status quo of beauty. I think that is why her songs have political overtones. Overall, Lizzo makes you stand up and take notice.
For this reason alone, this is Lizzo's best work to date, in my opinion.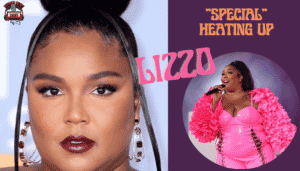 Hip Hop News Uncensored. It's the Leader in Hip Hop content on YouTube
[ad_2]

Source link
28-Year-Old Comedian & "Bust Down" Star Jak Knight Has Died – Halla Back Free Promotion
[ad_1]

Jak Knight, a comedian on the rise – best known for his work on projects like Big Mouth, Black-ish, and Bust Down – has died at the age of 28, The Hollywood Reporter shared yesterday (July 15).
At this time, the actor's cause of death remains unknown, though an agency rep did reveal via his family that he passed on Thursday night in Los Angeles. "Knight's loved ones ask that their privacy please be respected during this extremely difficult time," they added.
Jason Kempin/Getty Images
The timing of the talented star's death is especially unfortunate as his career looked to be on the rise as he moved from working in the writer's room on hit shows to co-creating, executive producing, and starring in a Peacock original of his own.
On Bust Down, Knight worked alongside Chris Redd, Sam Jay, and Langston Kerman to tell the story of a group of friends in Gary, Indiana who work low-wage jobs at a local casino.
The late star was born in Seattle, and prior to his death, finished wrapping filming on Chelsea Peretti's First Time Female Director.
Knight previously credited Dave Chappelle for inspiring his career in comedy, as well as the hit animated series, The Boondocks. "One hundred percent the reasons why I do what I do," he said of both influences.
He eventually went on to open for the controversial comic on tour, also hitting the road with names like Eric Andre, Moshe Kasher, Aziz Ansari, and Joel McHale.
Knight's passing has caused much unrest in the comedy community – not to mention the impact it has had on his closest friends and family.
"We are devastated by the passing of Jak Knight," the Bust Down team wrote in a statement. "He was a brilliant comedian, visionary and artist and we were all lucky to experience his greatness. Our hearts are with Jak's family, friends and community during this heartbreaking time."
RIP Jak Knight; tap back in with HNHH later for any updates on the comedian's tragic death.
[Via]


[ad_2]

Source link