Meek Mill's NFL Kickoff Performance Announcement Reveals More Details Of Jay-Z's Deal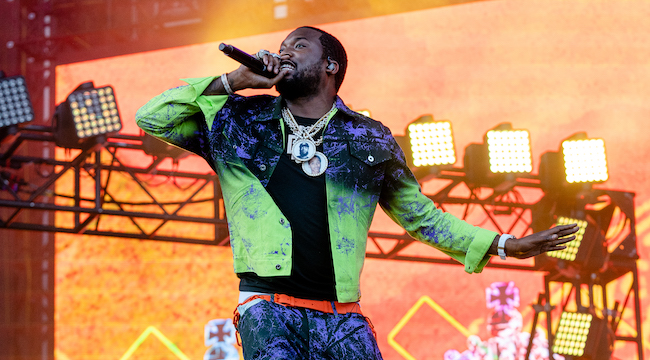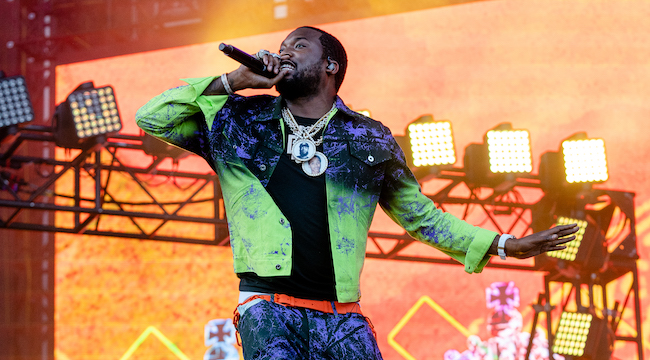 As the controversy surrounding Jay-Z's partnership with the NFL splits the hip-hop community and sports fans' opinions of the mogul, Jay's Roc Nation and the NFL continue to roll out details of their joint venture/smokescreen effort. Today, they announced that Meek Mill will headline a free concert September 5 at the NFL Kickoff Experience in Chicago's Grant Park along with Rapsody and Meghan Trainor — all, it should be noted, Roc Nation affiliates in some way or another.
All three entertainers were named Inspire Change advocates, taking the title from the NFL's social justice initiative Inspire Change, which was instituted as a reaction to the growing outcry against the NFL's crackdown on National Anthem protests in prior seasons. The NFL also announced the launch of Inspire Change apparel and Songs Of The Season, two initiatives geared toward channeling funds from the proceeds toward organizations committed to education, economic empowerment, and criminal justice reform.
According to the press release, Songs Of The Season will highlight artists in all genres, from superstars to emerging artists, who will create music that will be integrated into NFL promotions throughout the season and made available on digital streaming platforms. The proceeds will also be funneled into the Inspire Change initiative.
Whether this announcement endears Jay and Roc Nation to fans remains to be seen, but it seems likely that many will approach any future announcements just as skeptically as the first until some measurable positive results can be included. Jay seems unaffected either way.
NEW VIDEO: Lil Yachty – "Love Music"
Lil Yachty has dropped off the official video for his latest single "Love Music".
Hopefully, we can expect a new project from the rapper to drop soon.
Watch the visuals below:

The post NEW VIDEO: Lil Yachty – "Love Music" appeared first on Fresh: Hip-Hop & R&B.
Nas to Release New Album 'King's Disease 2' Next Week
There had been rumors that Nas was working on new music and will announce something very soon.
Today, we have the official news: the legendary rapper will release his new album King's Disease 2 on August 6th, reports NME. It will serve as the follow up to the Hit-Boy produced original that released last year and won Best Rap Album at the 2021 GRAMMYs, Nas' first ever trophy at the awards.
The artwork has also been unveiled which you can see below. There is no word yet on whether Hit-Boy is also handling production this time around but we're pretty excited regardless.
Last week, an unreleased Nas song surfaced where he was dissing Tupac. Last month, he celebrated 25 years of his classic album It Was Written by releasing a deluxe edition featuring unreleased songs. The rapper also recently remade his 1993 track 'Life Is Like A Dice Game' with help from Cordae and Freddie Gibbs.
The Weeknd Is Honored With The Quincy Jones Humanitarian Award!!!
The Weeknd will receive the Quincy Jones Humanitarian Award. The 31-year-old singer, actor, and filmmaker has done a lot of good with his fame.
The Weeknd Receiving Honor For His Contributions To Social Justice, Change and Equity Within The Past Year
Being able to sing is one thing. But being able to use your voice for good shows the true character of a person. In September, The Weeknd is set to be awarded a great honor.
Hosted by the Black Music Action Coalition, The Weeknd is to be honored with the Quincy Jones Humanitarian Award at the first annual Music in Action Awards.
According to Variety, causes that The Weeknd has donated several million dollars to include –
Black Lives Matter Global Network
The Colin Kaepernick Know Your Rights Camp Legal Defense Initiative
MusiCares Covid-19 Relief Fund
But this rapper is no stranger to his humanitarian efforts. The Canadian-born rapper has a long history of helping others. Additional efforts include a long list of accomplishments, like donations to –
 University of Toronto
St. Mary Ethiopian Orthodox Tawahedo Church in Toronto Canada
Children's Hospital in Atlanta (with Ryan Seacrest' Foundation)
A Maternity and Children's Medical Center in Uganda
The Equal Justice Initiative and more
Speaking on the music industry's humanitarian contributions, Binta Niambi Brown (BMAC Co-Chairperson) stated –
"BMAC promised to work with the music industry to advance racial equity, and are proud to have done everything we said we would do. Now, while we celebrate the achievements of our industry, we also look forward to continued work with every company in our industry to eliminate all forms of systemic and structural racism. We welcome conversations with all who share our commitment to justice and equality and are enthusiastic about the change we will create together."
One Hotel in West Hollywood will be the venue where the award will be issued on September 23rd.
Congratulations to The Weeknd, great job!
For more Entertainment News check out the Leader in Hip Hop, Hip Hop News Uncensored. It's the best YouTube channel for Hip Hop.