Karlae Unleashes 'Did That' Music Video!!!!
Karlae just dropped her single and visual for the song Did That. And it's exactly what you'd expect from her.
Karlae Wants Everyone To Know That She 'Did That'
Karlae dropped the single and accompanying music video for her single, Did That.
Taken from her upcoming mixtape, ENTER, the new single follows her debut release titled Blind.
With the project due to drop this coming Spring, the 26-year-old singer fully owns her title as the first lady of Young Thug's Young Stoner Life Records/300 Entertainment.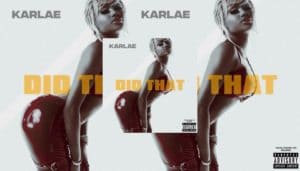 The song is said to be a nod to black icons like Lil Kim and Mary J. Blige.
Showcasing the fashion, music, and culture of the '90s, the musician/model/entrepreneur influencer is all in.
Talking about the project, Karlae (real name Jerrika Karlae Hauser) says –
"'Did That' is a glossy record letting everyone know I'm doing my thing. I'm giving myself my flowers."

"In the song, I say 'ima need a pat on the back.' I'm giving myself props and praise for killing this sh*t."
Check out the hook –
"Pretty little thang running to the bag (did that)

Got some chains and you know them bitch fat (did that)

Ima real one stacking up the cash (did that)

Saddity bitch with a big ghetto ass (did that)"
Watch the video for 'Did That' now.
Aren't you glad she 'did that'?
Hip Hop News Uncensored. It's the Leader in Hip Hop content on YouTube!
Chlöe Previews 3 New Songs, Asks Fans To Pick Her Next Single – Halla Back Free Promotion
This has been a successful solo season for Chlöe Bailey, but we still have yet to receive her official debut. Fans aren't too worried about its arrival now that the "Have Mercy" hitmaker is teasing her next single. We recently received "Treat Me," another racy track from the Chloe x Halle star, and just ahead of its arrival, Chlöe confirmed that her album was completed.
"I don't control dates or anything, but just know i'm super proud of this project. it means absolutely everything to me," she tweeted back in March. "I'm so happy right now. I haven't been that active and i miss you guys every single day, but just wanted to check in so you know i'm working and making everything special for y'all."
Amy Sussman / Staff / Getty Images
This evening (May 17), Chlöe returned with teasers of several songs that are in the running to become her next single. "Which song should I drop next? [eyeball emojis]," she wrote in the caption to her Livestream. The choices were "For The Night," "Suprise," and "Cheat Back"—all R&B bangers that her fans were begging to hear full versions of.
As fans gave their votes as to which song reigned victoriously, they also jumped in with their feature choices. Chlöe has yet to even share the record's title let alone her collaborations, but we're sure we will hear much more in the weeks to come. 
Check out Chlöe's songs below and let us know which one you're vibing with.
DIAMOND IN THE ROUGH: Meaner – "Loneliness"
In this new entry in our 'Diamonds In The Rough' category, we want to introduce you to upcoming artist Meaner and his brand new single titled "Loneliness".
Meaner is back with his brand new single "Loneliness". This track speaks about the hopelessness and fear that comes with feeling lonely, an issue that the artist has struggled with as a young teenager and had to face further when the lockdown struck, "Know you have to find you role In this world one day mean peeps You don't need to be guilty Just because you don't succeed". Meaner was inspired by his friend's opinions on loneliness as well as his own experiences. With this song, Meaner reaches out to remind people of their inherent worth and that there's always someone out there to listen.
Meaner combines a chill beat with some smart and deep lyrics. We love the vibes on the tune; this one will definitely go into our playlists.
Listen below:
Chris Brown Eyes Las Vegas Residency
Chirs Brown is on his way to Law Vegas in a planned residency. So prepare yourself for a spectacular ride at Drai's Nightclub.
Chris Brown's Las Vegas Residency Planned At Drai's Nightclub
Chris Brown is headed to Las Vegas!
Drai's in LV announces that the 33-year-old dynamic singer and dancer has a multi-year residency deal.
But this isn't the first time the Grammy award-winning artist is performing at the venue.
As he performed there back in 2015 as one of their inaugural talents.
However, his return to Drai's stage comes with high expectations.
Even though he gave a spectacular show 7 years ago, this time will be different.
And he is the first to have a custom-designed set, including a transparent two-level stage.
Bringing him closer to his fans, the design is immersive, up-close, and personal.
According to their website, the new creation will be unlike anything seen before on their stage.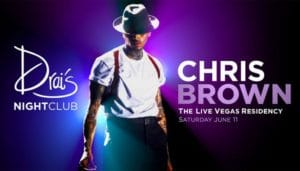 Drai's Entertainment President Sings Chris Brown's Praises
Here is what Drai's Vice President of Entertainment, Dustin Dari has to say about the artist –
"Chris Brown helped define Drai's LIVE and what has become an unmatched lineup of residency performers on the Las Vegas Strip. He's one of the most dynamic live performers today and we're thrilled to welcome him back with a production that's set to deliver an unprecedented fan experience."
As for the legendary R&B artist, he has 15 years of tunes in his catalog to share.
Chris Brown currently holds the record as the longest-running #1 song on the Billboard R&B/Hip-Hop Airplay chart at 28 weeks with Go Crazy.
This feat surpasses his own track, No Guidance with the honor.
In addition to those highly successful tracks, he most definitely is introducing songs from his highly anticipated upcoming new album.
His ninth studio album, Breezy. is set to be released this summer.
You can purchase tickets for this grand event right on Drai's website.
So prepare yourself to see Chris Brown at Drai's Nightclub in Las Vegas starting June 17th.
To hold you over, check out his official music video with Young Thug in Go Crazy right now –
Want more stories on Chris Brown, check them out now.
Hip Hop News Uncensored. It's the Leader in Hip Hop content on YouTube!