Janet Jackson Super Bowl Stylist Blames Producers For Wardrobe Malfunction
[ad_1]

All these years later, we still don't know who's really to blame for Janet Jackson's wardrobe malfunction during her 2004 Super Bowl Halftime show performance with Justin Timberlake.
Nearly two decades after the infamous incident, FX and Hulu have released their New York Times documentary about the performance and what went wrong. Malfunction: The Dressing Down of Janet Jackson reexamines Jackson and Timberlake's Super Bowl half time show performance, which ended with Janet's nipple being exposed by Justin on live television.
According to Senior VP of MTV Salli Frattini, who was interviewed for the special, Jackson and her stylist Wayne Scot Lukas went rogue after the costumes had been approved, spending money on new fabric and a starburst nipple cover at the last minute. She went on to allege that when Justin arrived at the stadium the day of the performance, he was whisked to her dressing room to speak with Janet and Wayne for "a small conversation that lasted minutes," without any producers around.

"My instincts told me that there was a private conversation between wardrobe stylists and artists where someone thought this would be a good idea and it backfired," she said.
Following that blame being put on Jackson and her stylist, Lukas is speaking out to give his side of the story.

While he didn't appear in the doc, he told Access Hollywood he was asked to participate and declined because Janet asked him to. He also claimed to have recently received death threats, which is why he decided to speak with the publication and share his side of the story.
"I was a work for hire, I was hired to do a job and I did exactly what I was supposed to do," he explained. "If I work with someone who's a dancer, you have to be able to dance in a wardrobe and it has to never fall apart. I stand 100% by my story that I did exactly what I was supposed to do, what I was hired for and if I ever hurt my friend, I wouldn't have worked with Janet for six years after the Super Bowl. I would have been fired that day."
And as for what went wrong, he placed the blame on producers for not cutting the cameras to black before her breast was shown on television.
"You were never supposed to see a movement where a breast was out, a body part was out. It was never supposed to be lingering on something that they say was this terrible thing for such a long time," he continued. "They were supposed to cut to black. You were supposed to get the idea of, 'I'm gonna have you naked by the end of this song,' nobody was supposed to be naked. And I've never said that. Somebody didn't push the button. Somebody didn't protect my friend."
On the other hand, Frattini adamantly denied this account, telling Access, "This is a false statement as per all of my comments previously written and now broadcast."

Wayne also talked about his relationship with Justin Timberlake, saying they "haven't spoken since he blamed me" for everything that went down.
"[He] came off the stage and said, 'it's just a little wardrobe malfunction, we all want to give you something to think about.' He coined that phrase," said the stylist, "And when he said that I thought 'friendship over.'"
"Wardrobe malfunction? I don't malfunction," he continued. "I was a professional stylist, $10,000 a day back then. I can't fail."
Lukas says that he has, however, spoken with Jackson since the documentary aired and she allegedly told him not to speak with the press.
"Lukas don't talk to anybody, just let this go. We're gonna handle this in January, I'm going to talk about this in January," he said, likely referring to her upcoming A&E documentary, Janet.
Clearly, this whole situation is far from over.


[ad_2]

Source link
NEW MUSIC: Lil Uzi Vert – "Space Cadet"
[ad_1]

Lil Uzi Vert has decided to kick off the weekend with the release of a brand new single titled "Space Cadet".
The rapper is currently working his forthcoming EP Red & White, which is expected to be released soon.
Listen below:
[ad_2]

Source link
Lizzo's Album Is Heating Up
[ad_1]

Lizzo's Album Is Heating Up. The R&B singer really knows how to make a statement. And, her new music reflects her political views.
Does Lizzo Have Another Hit Album?
Lizzo's Album Is Heating Up. One of my favorite songs is "About Damn Time." Although, people think Lizzo pushes the envelope. Especially, with her risque outfits. I think her voice is phenomenal.
She continues to reinvent her musical style. This album is just heating up. Another song that speaks to me is "Special." According to Rolling Stone, Lizzo has challenged herself to go deeper.
When she sings some of her songs it takes you back. In other words, she puts an eighties power bop to steamy disco mixed with R&B. Furthermore, some of her songs remind you of Philly's group The Delfonics."
Not to mention, the sounds of guitars, strings, and of course the flute compliment her lyrics. It may have been hard for Lizzo to top her first album. However, I think she pulled it off.
Here is a list of songs on "Special."
1. 'The Sign'
2. 'About Damn Time'
3. 'Grrrls'
4. '2 Be Loved'
5. 'I Love You Bitch'
6. 'Special'
7. 'Break Up Twice'
8. 'Everybody's Gay'
9. 'Naked'
10. 'Birthday Girl'
11. 'If You Love Me'
12. 'Coldplay'
More importantly, Lizzo makes some political innuendos. She lets society know, that she is not ashamed. The way she celebrates her voluptuous body. Also, she does not apologize for expressing herself.
Her music challenges the status quo of beauty. I think that is why her songs have political overtones. Overall, Lizzo makes you stand up and take notice.
For this reason alone, this is Lizzo's best work to date, in my opinion.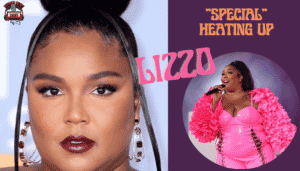 Hip Hop News Uncensored. It's the Leader in Hip Hop content on YouTube
[ad_2]

Source link
28-Year-Old Comedian & "Bust Down" Star Jak Knight Has Died – Halla Back Free Promotion
[ad_1]

Jak Knight, a comedian on the rise – best known for his work on projects like Big Mouth, Black-ish, and Bust Down – has died at the age of 28, The Hollywood Reporter shared yesterday (July 15).
At this time, the actor's cause of death remains unknown, though an agency rep did reveal via his family that he passed on Thursday night in Los Angeles. "Knight's loved ones ask that their privacy please be respected during this extremely difficult time," they added.
Jason Kempin/Getty Images
The timing of the talented star's death is especially unfortunate as his career looked to be on the rise as he moved from working in the writer's room on hit shows to co-creating, executive producing, and starring in a Peacock original of his own.
On Bust Down, Knight worked alongside Chris Redd, Sam Jay, and Langston Kerman to tell the story of a group of friends in Gary, Indiana who work low-wage jobs at a local casino.
The late star was born in Seattle, and prior to his death, finished wrapping filming on Chelsea Peretti's First Time Female Director.
Knight previously credited Dave Chappelle for inspiring his career in comedy, as well as the hit animated series, The Boondocks. "One hundred percent the reasons why I do what I do," he said of both influences.
He eventually went on to open for the controversial comic on tour, also hitting the road with names like Eric Andre, Moshe Kasher, Aziz Ansari, and Joel McHale.
Knight's passing has caused much unrest in the comedy community – not to mention the impact it has had on his closest friends and family.
"We are devastated by the passing of Jak Knight," the Bust Down team wrote in a statement. "He was a brilliant comedian, visionary and artist and we were all lucky to experience his greatness. Our hearts are with Jak's family, friends and community during this heartbreaking time."
RIP Jak Knight; tap back in with HNHH later for any updates on the comedian's tragic death.
[Via]


[ad_2]

Source link