Braxton Cook Wants To Keep Modernizing Jazz Music
Photo Credit: Lauren Desberg
Braxton Cook shares details on his forthcoming album and walks us through how it felt returning to New York's Blue Note Jazz Club.
Braxton Cook, the world-renowned saxophonist, composer, and singer has been releasing his take on jazz music since he shared his first EP Sketch in 2014. Nearly a week ago, he headlined two shows alongside his band at New York's historic Blue Note Jazz Club, with both sets sold-out. 
"I'm going to be honest, I definitely felt some pressure getting back into it and playing in New York," Cook said over a Zoom call from his California home. 
This was Cook's first show in New York since 2021 at Brooklyn's Elsewhere Rooftop. Amid the pressure he felt when he stepped on stage, he also felt the evening was like a reunion since a few of his band members live on the East Coast. The Emmy award-winning musician also shared that the crowd got a taste of a new album he's been working on (but didn't reveal when the project will arrive).
Born in Boston, Massachusetts, and raised in Greenbelt in Prince George's County, Maryland, Cook has loved music for as long as he can remember. His parents (his father, a pastor; his mother, a classically trained pianist) shuffled him and his three brothers (Cook is the second oldest) to varying activities like basketball and theater in hopes of helping them "find our passions." Taking piano lessons as a child played a part in Cook's growing love for music, but it's when he started playing saxophone at the age of 13 that he found his instrument of choice. His father is the reason Braxton became fixated on this instrument as early as five years old. 
The family moved around quite a bit but eventually, they planted roots in Silver Spring, Maryland. While in Montgomery County — which Braxton described as "sidity" — he attended Springbrook High School. His time there was pivotal; he studied saxophone and took advanced classes. After graduating in 2009, Cook attended Georgetown University to study English. While there, he worked and performed gigs on U Street, gradually becoming a fixture in D.C.'s jazz community.
Two years later, he transferred to The Juilliard School where he continued his studies and decided to pursue a full-time music career. This chance he took on himself proved to be worth it, as New York gave him a new space to cut his teeth as a musician and artist, leading to a longtime collaborative relationship with Grammy-nominated trumpeter Christian Scott, as well as touring and performing with the Christian McBride Big Band and Jon Batiste. He eventually launched his solo career in 2014, with a burgeoning fanbase and critically acclaimed tours and performances swiftly following after. 
Cook's soulful sound seamlessly intertwines jazz with funk, soul, and gospel, a testament to the passionate and thoughtful work he puts out as an independent artist. Each of his albums are a product of the years he has spent perfecting his craft and reinventing himself, as he did with 2020's Fire Sign, an album that saw him delve more into an R&B lane. With his forthcoming record, he'll be mixing elements he's previously explored in the past, while still pushing jazz into modern sounds.
Okayplayer recently caught up with Braxton Cook and spoke with him about his life in California as a husband and father, his forthcoming album, and more. 
How does it feel to start your year with a show at the Blue Note?
It feels like a restart button that I felt like I wanted — and all of us, including my band members, everybody, we deserve. This insane act of God just kind of came through like a storm and just ravaged our community. And not just the artists' livelihood but the club owners. It's an ecosystem. 
We've lost a lot of music clubs. So, it's a blessing that Blue Note was able to weather that storm. In addition to that, it was a blessing that all five of us, my band members and myself, and really a lot of the cats I know, have been able to weather that storm. But not everybody. So, I don't take that for granted. It's just an absolute blessing. 
How do you feel that being a husband and dad interjects with your work? 
Practically, it definitely is going to affect your time. You've got to learn to — or rather — I've got to learn to manage my time better. That's one thing right there because now we're up at 5:00 in the morning, 5:30, 5:45. Trying to work around nap schedules, feed schedules, all these kinds of things. Me and my wife, we have flexible schedules. She's a professor, works two days a week. I get to create my own schedule and have shows every once in a while. It's very fortunate but it puts a precedent on needing to fill our time with specific things that really cater to his development. And we're just adamant about those kinds of things. It's definitely made me manage time a lot better.
Can you share a bit on your upcoming album?
The plan is, tentatively, I'd like to drop probably by the end of the year. Like the last quarter, early last quarter. So, probably a fall record, I'm thinking, with the fall tour. If not that, I'm certainly at least getting some music out this summer. I'm excited about this one. For the first time, I got some people featured on this record. I'm excited about opening up the record and the music and the sound to other people that are in my community and in my circle.
What can we expect the sound to feel like?
Basically, similar to my record Somewhere in Between. I kind of want to stick to my base, in the sense that I'm really of both worlds, both languages. I want to meld the two. That's been the mission from the beginning. I do think [with] Fire Sign, I went further into that R&B lane. That was cool. I mean, that was only eight songs. This one, I want this to be like a 12, 13-song project. And I want to have both fully instrumental tunes and just some full-on R&B for people that like both sides of my artistry. That's really it. I'm not going to try and create a whole new name for the sound. But it's literally just like some modern jazz, where the sound of it I feel like is beefed up with the 808s, and cool sounds to blend in with the R&B stuff.
Nelly To Tour Throughout The Summer
Nelly is set to tour throughout the summer, up until September 24th. And you can count on surprise guest appearances.
Nelly Tour Set To Include Special Guest Appearances
Rapper Nelly is headed to a location near you in his upcoming 2022 tour.
Look for special guest appearances at some venues throughout the tour.
Expected to join Nelly on stage at select locations, including T.I., Ying Yang Twins, Ginuwine, Blackstreet, and more.
During his tour, Nelly (real name Cornell Iral Haynes, Jr.) is scheduled to headline 2 festivals this year.
On July 22-23, he is set to perform alongside Blake Shelton and ane Brown at Shakopee, Minnesota's Twin Cities Summer Jam.
And after that event, you can catch him with Ja Rule, Ashanti, and Lil Jon on Aug 6th.
That event will be held at Toronto's Pain Is Love Pt. Deux.
Check Out The Full Tour Schedule
May
5/20 – Albertville, AL
5/21 – Sharpsburg, KY
5/26 – Oxon Hill, MD
5/27 – Atlantic, City, NJ
June
6/2 – Cedar Park, TX
6/3 – Tulsa, OK
6/5 – Rio Rancho, NM
6/11-12 – Temecula CA
6/18 – Lincoln, CA
6/24 – Chubbuck, ID
July
7/5 – Traverse City, MI
7/9 – New Buffalo, MI
7/13 – Central Point, OR
7/16 – Hastings, NE
7/22 – Shakopee, MN
7/23 – Harrington, DE
7/28 – Cheyenne, WY
7/29 – Minot, ND
7/30 – Columbus, OH
August
8/1 – Monroe, MI
8/3 – Davenport, IA
8/6 – Ontario, CA
8/12 – West Allis, WI
8/13 – Des Moines, IA
8/14 – Billings, MT
8/19 – Bensalem, PA
8/26 – Mount Morris, MI
8/27 – Essex Junction, VT
September
9/4 – Puyallup, WA
9/5 – Salem, OR
9/15 – Spokane, WA
9/17 – Henderson, NV
9/23 – West Springfield, MA
9/24 – Bloomsburg, PA
October
10/7 – Grand Junction, CO
Tickets can be purchased at all ticket selling locations, including his website, nelly.net.
Will you be jamming with Nelly this year?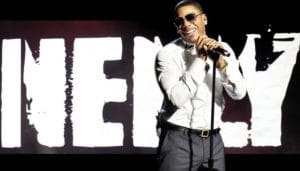 Want more stories involving Nelly, check us out.
Hip Hop News Uncensored. It's the Leader in Hip Hop content on YouTube!
Tory Lanez Returns With A Summer-Ready Single, "It Doesn't Matter" – Halla Back Free Promotion
We have yet another weekly drop-off from Tory Lanez and it's clear that he isn't finished applying pressure. Today (May 20), the Canadian artist performed at the Metro Metro festival in Montreal as he shared the stage with a slew of heavy-hitters. Lil Baby, Playboi Carti, Trippie Redd, Don Toliver, Polo G, Lil Tecca, Lakeyah, DaBaby, A Boogie Wit Da Hoodie, and Lil Pump are just a handful of rappers appearing at the festival, and Lanez wanted to deliver another new banger on the evening of his performance.
Lanez has returned with "It Doesn't Matter," a summer jam poised for repetition among his dedicated fanbase. According to a press release, Lanez described the record as his first "real" single in almost three years, following his recent releases "Shot Clock Violations, Florida Sh*t," and "I Like." This R&B track has added its name to the summer anthem hopefuls and Lanez may have a formidable contender.
Stream "It Doesn't Matter" and let us know your thoughts on Tory Lanez's latest.
Quotable Lyrics
Don't mistake her for my old thottie (Yeah)
You ain't fuck my bitch if you hit on her old body
'Cause since shе got it done, since she got it donе
She been on the 'Gram screamin', "I'm the one"
I just wanna run into you, baby
NEW VIDEO: Quavo & Takeoff – "Hotel Lobby"
Migos rappers Quavo and Takeoff have released a new collaboration under their new duo name Unc and Phew. It's titled "Hotel Lobby" and comes with an accompanying video.
After the announcement of the song, Migos fans immediately began investigating the fact that Migos might have broken up. They discovered that both Offset and his wife Cardi B had unfollowed the two on Instagram. So far, there has been no official word on their disbanding.
Watch the video for "Hotel Lobby" below: